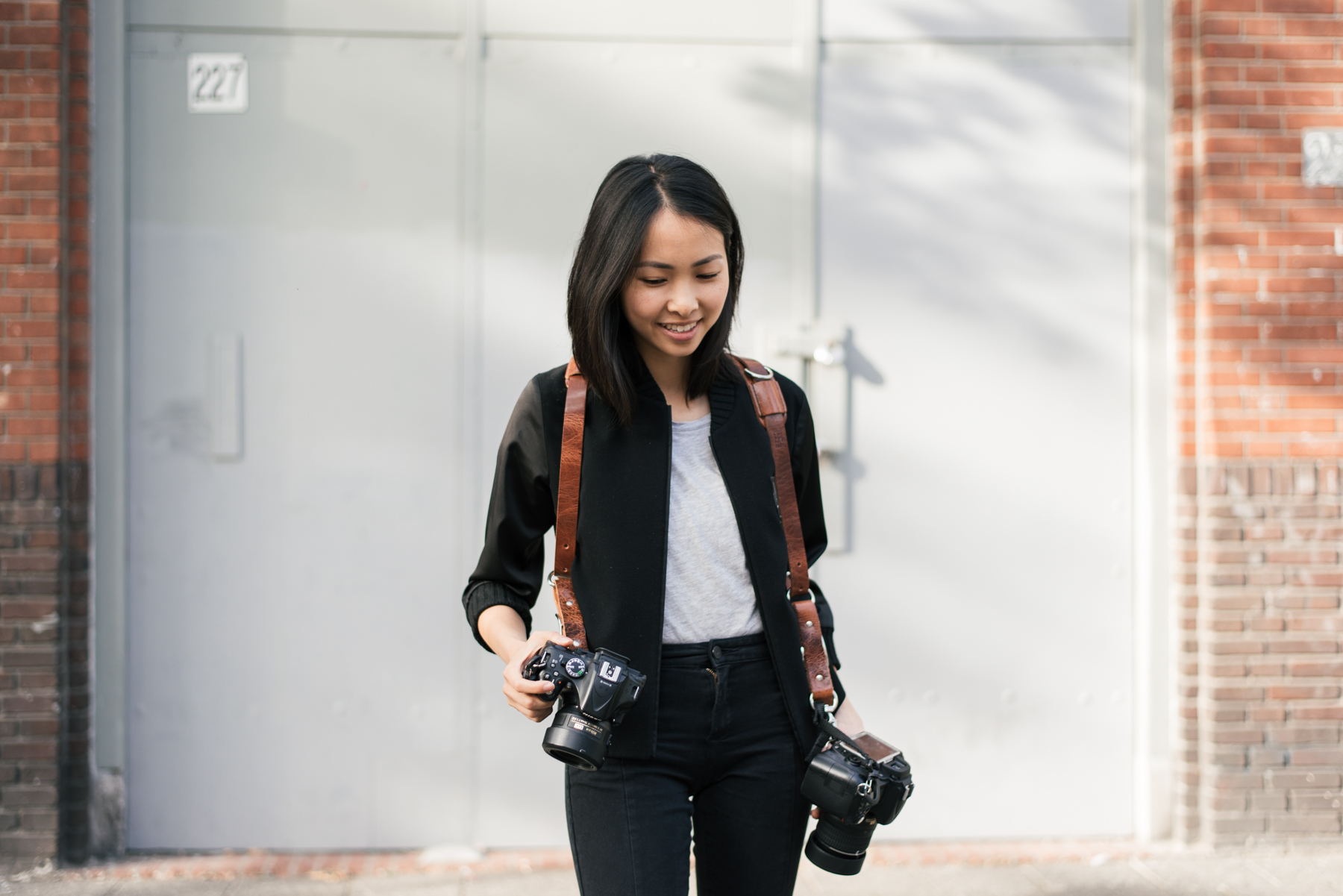 From the get-go, HoldFast's allegiance lies in this: steadfast dedication to professional photographers and the systems they utilize. Committed to paving the way, HoldFast gear accentuates style while also performing comfortably and efficiently. Responsible for creating a new genre within the industry, we're changing the way photographers look and feel while doing their best work.
In this series, you'll hear stories of HoldFast gear and the photographers–the pioneers, the adventurers, the originals–that use them. This is How You HoldFast.
As a budding photographer, José Chan knew that one of the keys to her success would be to capture the moments that matter. Having shot portraits previously, the nature of her work changed slightly when she recently incorporated weddings into her services.
"As I'm just starting in the wedding photography business, I still get a lot of nerves before I shoot a wedding. I was always stressing about what lens I should use and when I would have the time to switch lenses. I would even write down in the day planning what lens I would use at what moment and I would worry if I had enough time to switch lenses and not miss any of the important moments."
Her commitment to being prepared to capture the moments interfered with her actually being in the moment, something that's necessary in order for Chan to do her best work for her clients.
Working as a second shooter allowed Chan to see what it was that set the head photographers apart: almost all of them were sporting HoldFast gear.
"When I worked as a second shooter I saw most of the head photographers using a MoneyMaker and that's when I realized I needed one as well."
She purchased the Skinny MoneyMaker in Water Buffalo, and it immediately put her more at ease.
"It eliminates all my lens-choosing stress, because I can just keep two cameras with different lenses with me at all times."
Believing that form and function must be equal, HoldFast was created by a photographer, for photographers. The MoneyMaker system is designed to carry one, two, or even three cameras. The versatility of the gear is what drew Chan to it.
"I bought it for the reason that it can hold two cameras and I can have them with me all the time, so I can switch easily between lenses when I shoot fast-paced events like weddings."
The MoneyMaker makes heavy cameras feel lighter and the natural hanging position for your cameras is just behind the midline of your body, making this a very streamlined approach to carrying big and heavy cameras. Surprised by how comfortable it was right off the bat, the MoneyMaker was a welcome reprieve for lugging around a heavy camera and heavy lens with a single strap.
"I have quite a petite frame and carrying one heavy camera with a heavy lens wasn't always that easy, but with the MoneyMaker I have no problem carrying two heavy cameras for a whole day. It also feels very sturdy, which is good for all the expensive gear I carry," Chan says
With the discomfort of bulky camera gear eliminated, HoldFast gear almost immediately changed the way Chan approached a long shoot. Designed to accentuate style, the MoneyMaker rides in as the hero for the aching back, but stays around as the confidence booster.
Chan found this out first hand as she explains: "It looks very stylish and professional. I get a lot of compliments on it during weddings and because it catches the eye, people always know to find me. Before, I sometimes got lost amidst the crowd, especially because I'm not that tall, but now people know exactly how to find me. They know how to recognize the professional."
Contact info
Website
social media handles
Instagram: http://instagram.com/byjosechan
Facebook: https://www.facebook.com/byjosechan
Email address