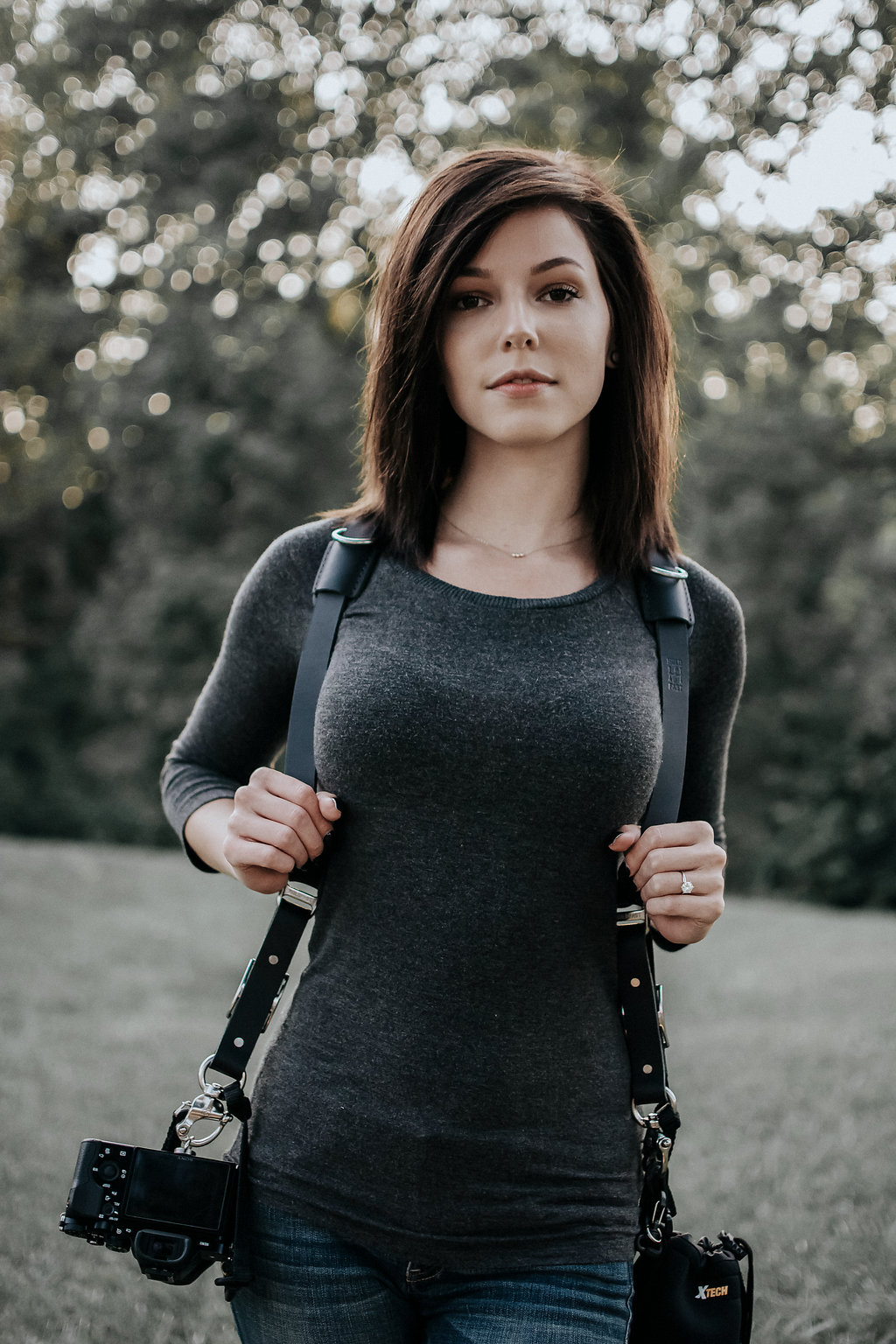 From the get-go, HoldFast's allegiance lies in this: steadfast dedication to professional photographers and the systems they utilize. Committed to paving the way, HoldFast gear accentuates style while also performing comfortably and efficiently. Responsible for creating a new genre within the industry, we're changing the way photographers look and feel while doing their best work.
In this series, you'll hear stories of HoldFast gear and the photographers–the pioneers,
the adventurers, the originals–that use them. This is How You HoldFast.
It took an influx of images on social media to put HoldFast gear on Cat Car's radar. Not long after she took notice, someone she knew actually knew boasted about their own HoldFast gear experience, and Car decided to try it out for herself.
She purchased a black skinny MoneyMaker in Bison leather and says it was after hearing only good things about HoldFast products she knew she had to give it a shot. "I was attracted to the look of the MoneyMaker, so I finally gave in and bought one, and couldn't be happier that I did. Let's be honest, these harnesses are badass and there's nothing else like them on the market so they definitely catch your eye and draw attention."
As one part of the North Carolina photography duo, Sweetfruit Photo,–her husband, Ozzy, is the other part– Car says she's had a camera in her hand her whole life, but it wasn't until around seven years ago she began to intentionally invest in her photography journey. Shooting primarily weddings and portraits, Sweetfruit's mission is to truly capture the essence of what their clients are feeling on quite possibly the biggest day of their lives. Car seeks to affirm the fact that her clients can trust her with their memories exactly as they happen, and being able to do that with ease is what Car says makes HoldFast gear essential.
"Initially wearing my gear around my hips threw me off and I wasn't sure how I felt about it, but once you actually start to shoot you realize how convenient it is to have TWO HANDS available to you while you're working! I was never able to use the neck strap that came with my camera, even though it was thin and lightweight. The pressure was still there on my neck and driving me insane, so I was usually looping my strap loosely around my arm and holding my camera in my hand at all times…not convenient or secure."
Car wants to encapsulate her clients in their natural state, and right off the bat seeks to build a stunning rapport with them to make them feel at ease. She's essentially willing to do whatever it takes to make her clients feel comfortable; sometimes that means scaling a mountain–or two.
"I have a lot of clients in the Smokies, so I need something that can hike with me, and the MoneyMaker is perfect for that. With the sailboat clips–can we talk about how great these are?!–and the backup strap, I don't feel like I need to worry as constantly about my gear as before."
Designed to keep a photographer's most important tool as close as possible–literally right on them–MoneyMaker's boast clips that have to be able to withstand the full wind pressure exerted on a sail, but be easy enough to unclip and untangle should it be necessary. HoldFast has modified these clips to add a swivel, a longer pin draw and a stronger spring that all makes this clip even more durable. Each clip also has a removable safety strap that connects at the base of the clip and then to the side lug mount of the camera. Bypassing the screw and clip, this ensures that if there was any malfunction, everything would still be clipped in.
"The craftsmanship is second to none, and speaks volumes about the care and effort put into crafting each and every single MoneyMaker harness. I realized HoldFast was a game changer as soon as I got the box! The care put into the packaging alone was impressive, but using my MoneyMaker in action showed me what a quality equipment system can do for me, physically and professionally."
Created by a photographer for photographers, HoldFast gear aims to elevate both form and function, and believes that if the tools being utilized are second to none, so will the work that is produced because of them.
"Aesthetically, these things are great. They really command attention and aid in setting you apart, making it easy to spot you (say in a crowd full of wedding guests). You really look and feel awesome, all while being able to maximize the amount of bodies or other gear you can carry while keeping your hands free," Car says.
"I certainly have no complaints about my MoneyMaker and will definitely vouch for the brand when it comes to all my photographer friends. Nothing I've used has come close to the ingenuity or craftsmanship."
Contact Info
Instagram: https://www.instagram.com/sweetfruitphoto/
Facebook: Facebook.com/sweetfruitphoto
Website: www.sweetfruitphoto.com
Email: sweetfruitphoto@gmail.com