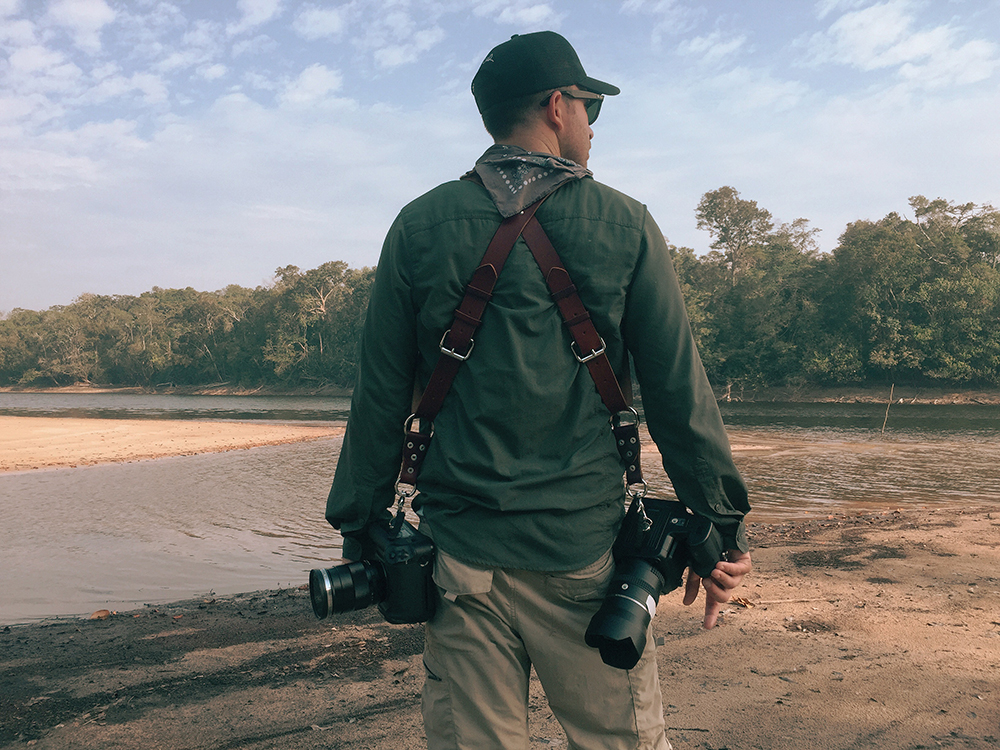 From the get-go, HoldFast's allegiance lies in this: steadfast dedication to professional photographers and the systems they utilize. Committed to paving the way, HoldFast gear accentuates style while also performing comfortably and efficiently. Responsible for creating a new genre within the industry, we're changing the way photographers look and feel while doing their best work.
In this series, you'll hear stories of HoldFast gear and the photographers–the pioneers, the adventurers, the originals–that use them.
Having focused primarily in the world of portraiture, whether in studio or on the street, for ten years, along with a large roster of documentary style commercial work, Dave Jacobsen is no stranger to the necessity of utilizing both digital and film cameras within the same shoot. Shooting both stills and video on the same job required a way to work smarter, not harder.
"I had been wanting a Moneymaker for a long time, but always wondered if it would be right for me."
Back to back shoots in two opposite environments gave Dave the opportunity to really see what HoldFast gear is made of—first on a hunting shoot in Kentucky.
"Being out in the fields all day and constantly on the move was no place to be lugging around bags of equipment. The Moneymaker made it possible to sling a digital medium format camera on one side, and a DSLR devoted to video on the other. I clipped a couple lens pouches up top, and was good to go for the whole day."
Designed to make heavy cameras feel lighter, the Moneymaker is worn high up on the body, allowing cameras to naturally hang behind the midline of the body. This streamlined approach was the perfect solution for Dave.
"I could even drop both cameras easily and be handed a bigger, stabilizer camera for the video side of things. It fit comfortably over a coat in the wintery conditions and allowed me to not worry about one camera while I was using the other."
From Kentucky, it was onward to a fishing shoot on the Amazon River. Brazil, to be exact.
"This is where the Moneymaker really shined. There were certain times where it was just a fisherman, a guide, and myself dragging a small boat through offshoots of the river to secluded lakes. We couldn't load the boat up with equipment, so what I could carry with the Moneymaker was all I had.  I was able to sling both still and video cameras again while treading through knee deep water."
The Moneymaker secures cameras and important gear where it's most accessible and comfortable—right on you.
"I could be shooting stills of a fish being caught and immediately drop that camera to my side and start shooting video with the other camera.  It was the only way to get through this kind of shoot."
With everything he needed on his person—and not in the boat he was dragging—Dave's Moneymaker eliminated the need to run back to a bag or having to set things down when he was shooting.
The ultimate test to seal the deal between Dave and HoldFast?
"The Moneymaker even came in handy doing aerial helicopter shooting by providing a safe system to keep anything from dropping out of the helicopter without getting in the way of the helicopter harness!"
Having recently shifted his focus to the world of weddings and engagements, Dave has capitalized on the Moneymaker's versatility too.
"Sometimes the client needs stills as well so the ability to have one body set up for video work and another set up for stills, all at the ready on my moneymaker is key. This has also helped me with weddings, not only being able to have two bodies with different lenses at the ready at all times, but also having one set up to catch short video highlights and the other dedicated to stills."
The sentiment "No pain, no gain" does not ring true for HoldFast gear. Dave knows this all too well.
"After 15 days on the road, lugging two heavy cameras every day, my back felt great, and I was always prepared to get the shot. Even if I find myself out and about with only one camera, the Moneymaker makes it comfortable–no more camera strap sliding around, digging into my neck. I can't recommend it enough! I'm looking forward to a long relationship with Holdfast!"
The feeling is mutual Dave!
Contact info:
Dave Jacobsen
Instagram: foxtrotimages