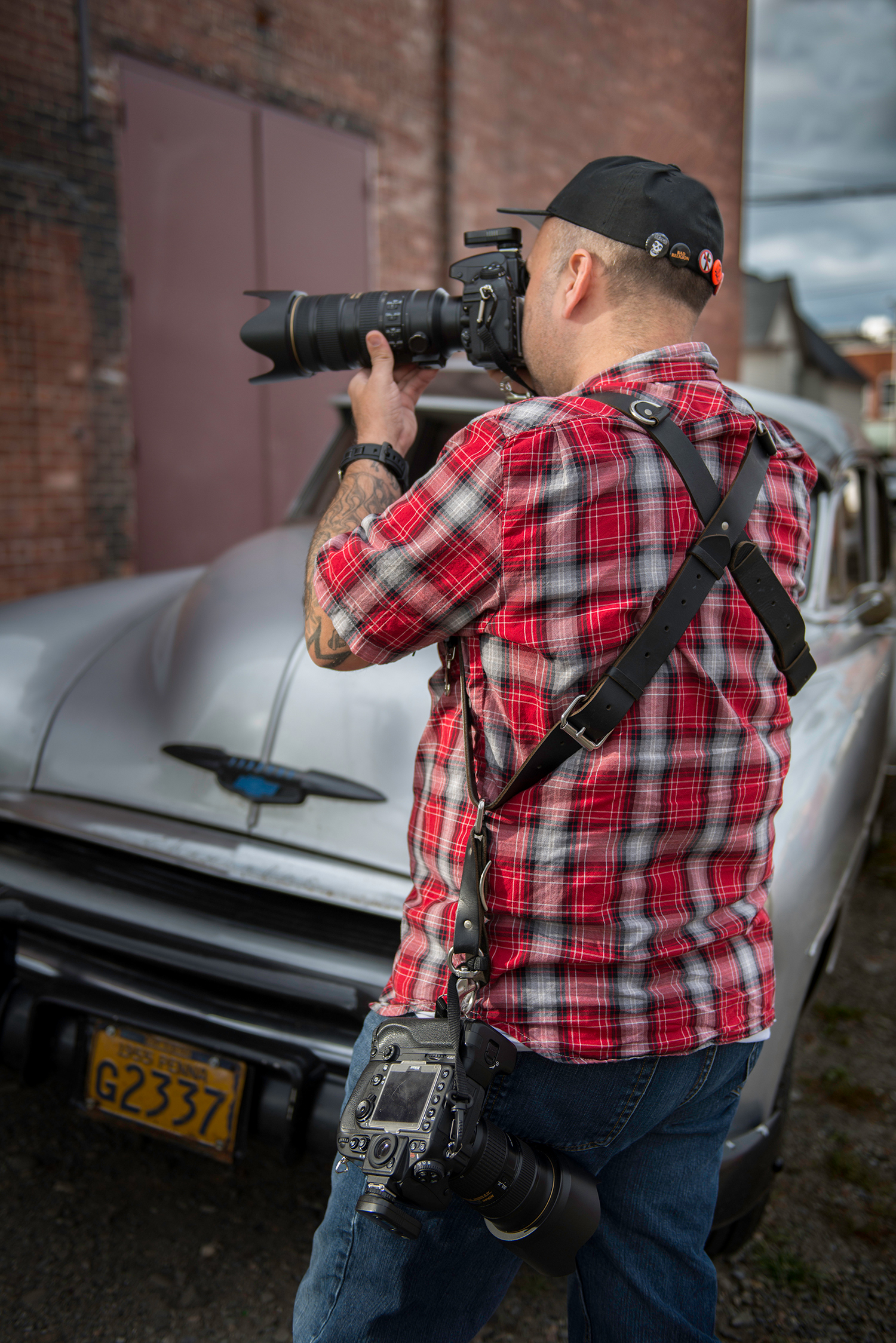 From the get-go, HoldFast's allegiance lies in this: steadfast dedication to professional
photographers and the systems they utilize. Committed to paving the way, HoldFast gear accentuates style while also performing comfortably and efficiently. Responsible for creating a new genre within the industry, we're changing the way photographers look and feel while doing their best work.
In this series, you'll hear stories of HoldFast gear and the photographers–the pioneers, the adventurers, the originals–that use them. This is How You HoldFast.
For some, purchasing their first piece of HoldFast gear is a final attempt to either relieve back pain or change the way they shoot their work. For Johnny Hall, it was both–and so much more. "I purchased the Money Maker because I have back issues, and almost gave up photography."
The owner of Red Door Photography, which he and his wife, and studio manager, Eileen opened around six years ago, Hall began his photography career decades ago, using the photographs as references for his paintings and drawings. Quite a lot has changed since then, and Hall says his studio work keeps him so busy, there's hardly any time to paint and draw.
A few years ago, Hall shot concert photos for a few venues in Sayre, Pennsylvania, where Red Door is located, and was then picked up by www.concertlivewire.com. He both shoots the shows and writes reviews on them–think Rob Zombie, Korn, In This Moment, and others. "I now get to cover shows all over New York and Pennsylvania. In addition to shooting concerts, I have been able to work with some pretty legendary musicians off-stage, including doing two projects for Greg Graffin of the band Bad Religion." Hall even shot the cover of Graffin's most recent solo album, Millport.
"I had a name brand dual camera belt for years before finding the Money Maker, and had two costly repairs as a result of using that belt–both lens and body repairs. I found the belt around my waist to be uncomfortable, and it put strain on my back. I often found myself having to take one of my cameras off of my camera belt in order to get the angles I needed to shoot," Hall says.  
Hall explains that there is a common rule within the music industry that applies to concert photography: only the first three songs can be photographed. "Some bands only allow the first two songs to be photographed, and occasionally a band will only allow the first song, so I have no time to waste." The fact Hall could potentially miss an important shot because his gear was working against him, coupled with his back pain, sent him searching for a solution. On the recommendation of a friend, Hall found HoldFast.
"I had back surgery a few years ago, and finding the Money Maker has been a game changer for me. I used to be in constant pain from carrying my cameras on a camera belt. I shoot with my Money Maker up to five days a week, and the feature that I am most impressed with is the way in which the Money Maker distributes the weight of my heavy cameras and lenses. I shoot two full frame cameras with battery grips, one with a 24-70 2.8  and one with a 70-200 2.8, and thanks to the design of the Money Maker, I don't even notice the weight of my equipment."
Designed to equally distribute the weight of your gear to either side of your lower back, the Money Maker is the first of its kind. It allows photographers to keep their gear where it's most accessible–right on them.
"The very first time I hooked my cameras to the Money Maker and felt how the weight was distributed, I realized it was a game changer. I could instantly tell that the camera harness was designed by someone who appreciates both design and function, and who knew what it felt like to carry heavy cameras for long periods of time," Hall says. Created by a photographer for photographers, he couldn't be more right.
"Time is of the essence," Hall says, and he confidently puts his trust in the Money Maker now, no questions asked. "I am 100% confident that my Money Maker will not fail. I have no concerns that my gear will fall or be damaged. Because of the awesome design, my cameras stay close to my body while I'm working in the photo pit. Some pits can be packed with photographers, so it is very helpful to have my gear secured so close to my body."
In addition to concert photography, Red Door Photography also shoots high school seniors and weddings. "With the Money Maker I can get into any position I need (including lying on the ground) to get my shot and my gear does not get in the way. I am able to get into any position necessary to get the shot while wearing this gear, whereas before, I found myself having to remove one of my cameras from my belt before kneeling or lying on the ground, and am able to raise my cameras to my eye extremely quickly and can therefore switch between focal lengths with lightning speed. I am able to shoot both portrait and landscape orientation with both camera bodies and switch between them very quickly," Hall says, and explains perfectly the benefits of HoldFast's dual-camera system.
But there's also another reason why Hall loves HoldFast and its gear, and it is, perhaps, a bit more personal.
"My grandfather was a leather craftsman. If he were here today, I know he would be impressed with the beauty and design of the Black Water Buffalo Money Maker. It's incredibly stylish and durable, and I appreciate fine leather and craftsmanship. The leather only gets better with age; it has completely molded to my body and looks even better than the day I bought it."
"I have had compliments from other concert photographers on how "bad ass" my Money Maker looks. Your product has changed my life and my business."
Facebook: www.facebook.com/reddoorphotosayre
Instagram: @reddoorphotosayre
Email address: jphallstudios@gmail.com