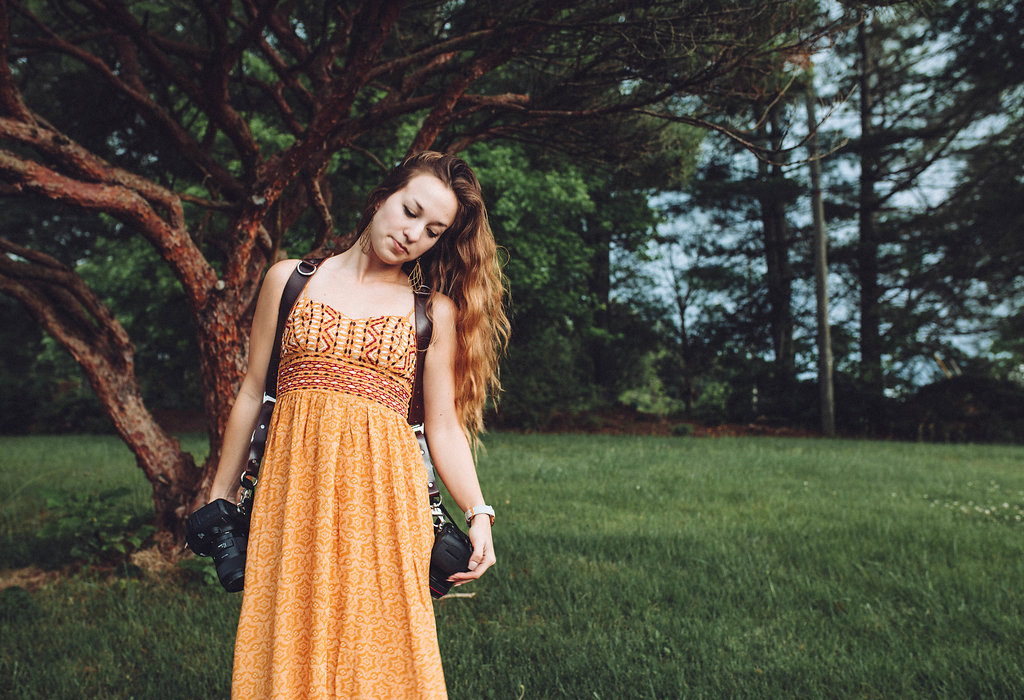 From the get-go, HoldFast's allegiance lies in this: steadfast dedication to professional
photographers and the systems they utilize. Committed to paving the way, HoldFast gear accentuates style while also performing comfortably and efficiently. Responsible for creating a new genre within the industry, we're changing the way photographers look and feel while doing their best work.
In this series, you'll hear stories of HoldFast gear and the photographers–the pioneers,
the adventurers, the originals–that use them. This is How You HoldFast.
When it comes to photography, Taylor Meo does not mince words: "I've been in love with photography my whole life." The Northeast Tennessee native shoots weddings and engagements, primarily, and captures the majority of her clients just by herself.
"I need to be able to capture different angles, viewpoints and even lighting conditions at the same time. In the past when it came time to fix a bride's wedding dress, or move a stray hair from her face, I would have to set my camera down to accomplish this, or just let it swing from my wrist into my hip (or anything surrounding–think wrecking ball status). I had bruises on my hips constantly from it. Then I got my Money Maker, and all my problems vanished."
Designed to make heavy cameras feel lighter, HoldFast Gear's original product capitalizes on the fact that the natural hanging position for your cameras is just behind the midline of your body. In doing so, it adopts a very streamlined approach to carrying big and weighty cameras. Meo purchased a maroon Water Buffalo Money Maker after learning about it from the Facebook Group, Looks Like Film. "I can now squat down, fix a dress, grab more gear, put my external flash on and on and on, and I don't have to put my camera(s) down anymore!"
The alternative, while functional, was not idealistic. "My previous strap was a DIY, paracord bracelet–very minimalistic for one camera. I found myself having to set it down a lot to switch out lenses, which got frustrating quickly." Now, thanks to HoldFast, the difference is night and day: "I love how easy it is to take my cameras off and put them back on the strap. It literally takes seconds. They stay at my hips, out of the way, when not in use. It is sO wonderful to have both hands free to help as I need to with my brides."
HoldFast straps now allow Meo to focus on shooting and helping her clients in a way that's practical and stylish. "I love how it blends into my apparel; I get compliments on it every single wedding. I don't carry a bag around with me now, thanks to being able to confidently and comfortably carry two camera bodies and lenses simultaneously. My shoulders and back and wrists don't hurt anymore after a long 8+ hour wedding day." Since the Money Maker comes with everything you need to shoot two cameras, there was essentially no learning curve for Meo once the Money Maker was in her possession.
Crafted from the finest Water Buffalo leather, this style of Money Maker (along with the American Bison) starts off very soft. The more you use it the more it molds to your body proving to be an extremely comfortable fit over a few uses. Meo found this to be true almost instantly: "I have been wearing this strap 24/7 to all my shoots, and the leather has softened up; it's now even more comfortable for me." The quality, Meo says, is not something to be missed. "I feel like every single penny I spent on the strap was poured into crafting this thing. I was blown away by the customer service, the shipping, the packaging alone. Then you pull out this strap that is so expertly made–such a beautiful piece of gear."
While this is her sixth year shooting, Meo found that this year has been a huge year of growth. After several years spent comparing her style to other great photographers local to the Northeast region of Tennessee, she finally realized she had to ask some serious questions: Who is Taylor and what makes her business stand out from everyone else? In the last year, the momentum has been rolling for her business, due to a combination of marketing, creating her own unique presets, and, refreshingly, new gear.
"My HoldFast strap is a huge part of my success. Having the ability to have two cameras and lenses on me at all times has greatly increased my productivity and availability to not miss a single shot. It's a piece of gear that now goes with me to every single shoot. And I wouldn't shoot a wedding without it now.
With my business this past year I've been pursuing not just high competency as a photographer but truly reaching for high character. That is what sets you apart in the sea of competition. It's who you are as a person that defines and ultimately fuels your business's success."
Meo took the works right out of our mouths: " If you are in pursuit of high character and high competency, you are unlimited in the amount of good and the amount of success you are capable of in this life." We're thankful to be apart of changing the narrative along with Meo & the work she's committed to doing.
Contact info:
https://www.facebook.com/taymeophotography
www.instagram.com/taymeophotography
taymeo@hotmail.com