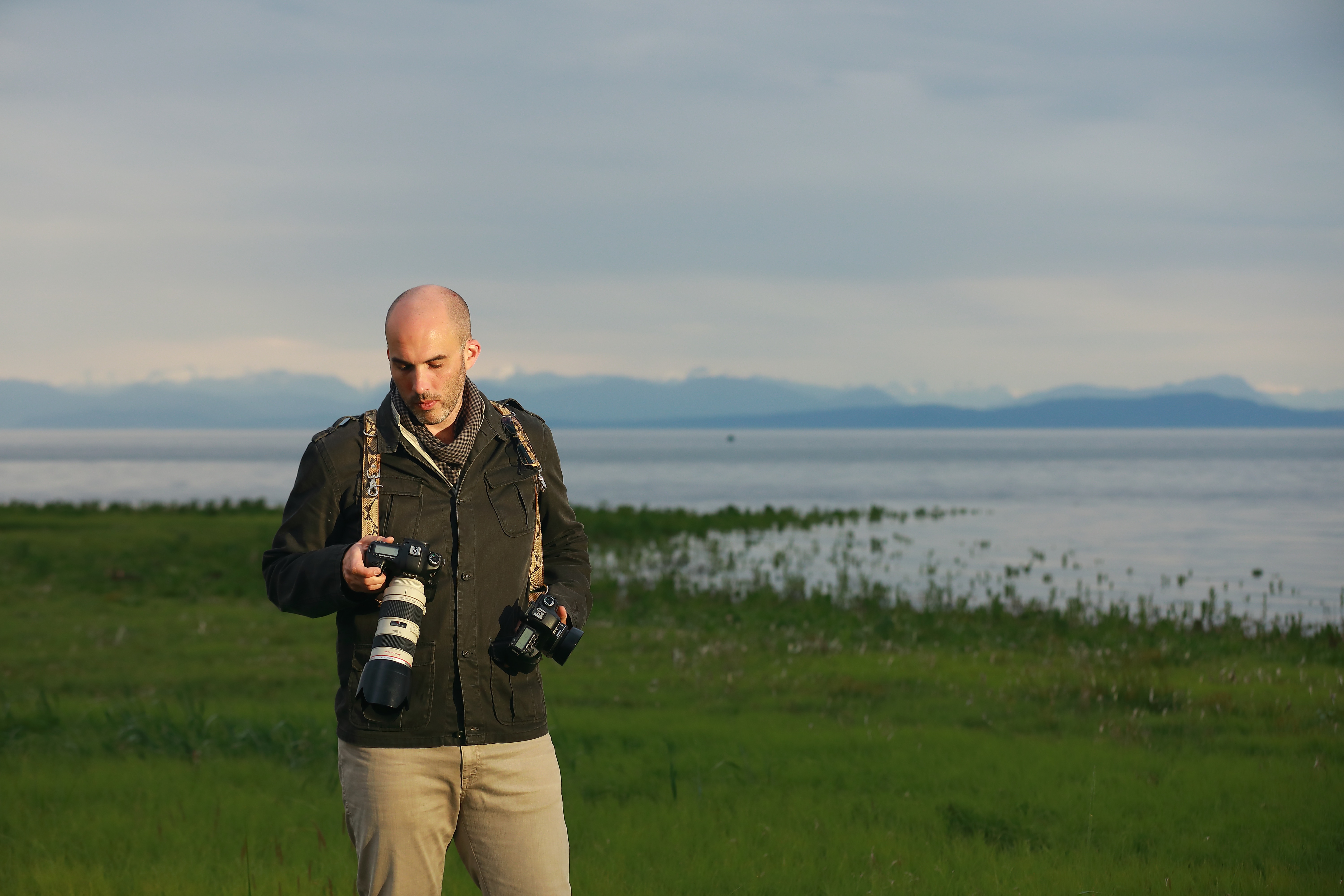 From the get-go, HoldFast's allegiance lies in this: steadfast dedication to professional
photographers and the systems they utilize. Committed to paving the way, HoldFast gear accentuates style while also performing comfortably and efficiently. Responsible for creating a new genre within the industry, we're changing the way photographers look and feel while doing their best work.
In this series, you'll hear stories of HoldFast gear and the photographers–the pioneers,
the adventurers, the originals–that use them. This is How You HoldFast.
For Ron Pogue, photography is, frankly, in his DNA. "My grandfather was a photographer during the second world war, and I always had intended to follow in his footsteps." And follow he did: the first images he recalls purposefully taking were on an old Kodak 110 when he was in the first or second grade. Basically, he's been shooting for as long as he can remember.
"My father left me access to the family collection of cameras going back to 1892, and I shot with them all. I grew up seeing photography as a magic art, as opposed to a technical practice," Pogue explains. Studying black and white photography in high school and college, learning color processing and printing while doing his BFA–shooing medium and large format color slide film–was a natural progression for Pogue as well.
"I worked in Galleries and labs as the world went digital and saw the new technologies that were to take over, re-learning everything again to finally find the world stage in the new panopticon of social media.
Pogue collaborates with everyone from artists and performers to regular people to try to create images that connect the viewer with the subject as directly as possible. There's no beating around the bush here. "My personal work often deals with more metaphorical or symbolic images–atmospheric states or happenstantial occurrences of synchronicity seeming to allude to a larger plan or story."
Having already been shooting for years, Pogue was happy to just get by with an average nylon harness to carry his gear around. But in making the transition to fashion work and higher end weddings, he was embarrassed. As someone who prides themselves on presentation, the faded black nylon and blatant logo of the gear he was using was all wrong. "It was the only piece of my attire that didn't fit. I needed a designer camera harness, but one designed by a photographer for photographers."
Enter HoldFast: a brand that resonates with photographers who appreciate function, form, and the rewards that accompany inspired work.  
Pogue's first piece of HoldFast gear was the Python Money Maker, with additional camera leashes for extra gear, or to be used as a wrist strap. "I searched 'world's most badass camera harness you can wear with a tuxedo'. The Python Money Maker was the first hit." As he soon discovered, with HoldFast gear, form and function are not mutually exclusive. One builds up the other, and vice versa. "I never doubted for an instant that I had found what I was looking for. It was the first time I had bought anything for my career that wasn't just functional or utilitarian. It is both of those in spades to be sure, but it is also the finest piece of gear I have ever owned."
While Pogue describes his HoldFast gear as superlative, indefatigable, and sublime, (he later added a small black Bison Money Maker for single camera set up & to lighten the everyday load) the feature he finds most helpful? Balance.
By allowing the cameras to hang on either side of the small of your back–a design unique to HoldFast gear–the Money Maker is designed to be worn high up on the body, which allows for cameras to naturally hang behind your midline, just around the belt area. This all but eliminates pressure from the lower back and places it across the broadest strongest part of the back.
"The physical balance that it enables between two cameras allows me to stand up and shoot while pulling my shoulders back instead of crushing my clavicle like a regular bag or shoulder strap would," Pogue says. The Money Maker also made me focus on only carrying what I need, so that I can go all day and still have everything covered. I often use one wrist leash on my 70-200 2.8, not to take its weight, but to keep it attached to me in crowds. Mine is a very early model, before the shackles and secondary safety clips. I call it my precious but to everyone else it's my Backstage Pass, with my Canons Bread & Butter."
The beginning of the Backstage Pass era–of which is still taking place–began for Pogue shortly after he began sporting his Python Money Maker.   
"I was walking, as I often do, down an abandoned back alley, following the evening light, when someone called to me, "You're with the band, right?" Without hesitation, I stepped out of my old life through the unmarked venue door. That night as I revelled in reflection, I thought it would be a one time thing–but it started happening again and again, "You're with the Band" became a statement, not a question, and that gave way to simply, "You're the Photographer" as I became recognized."
There was no learning curve post-Money Maker purchase–HoldFast gear was a game-changer for Pogue instantly. "That's not to say I wasn't doing alright before; I had managed to photograph the likes of Sam Roberts, K'naan, and Tanya Tagaq in my old nylon sling, but these were jobs I had been contracted to do, that I had to work hard to just to get. That was when I was still 'paying my dues', as it were. When I upgraded to the Money Maker, it was an investment in myself as much as my business. Eventually I stopped wearing any ID or passes at all; I could go everywhere I needed at any event because I now walked with the confidence and authority to do so."
To say Pogue knew quickly that HoldFast would change the way he worked would be an understatement. The Money Maker had literally opened doors for him, Pogue claims, making HoldFast and its Money Maker the one thing that could handle the demands Pogue put on himself and his equipment.
"I place very strict control on my gear in order to bring the greatest possible freedom to my way of working. I do not change lenses, or camera plates, or memory cards. I only remove my filters after dark, everything has to function all day without question and without fail.  Everything is attached to me." The Money Maker is a supremely durable strap–remember how Pogue put it? Indefatigable–with anchored metal d-rings, safety straps for ultimate security and impeccably versatile design. This makes this an essential tool for the modern photographer that allows them to secure cameras and important gear where it's most accessible and comfortable—right on them.
"It isn't really fair to compare any other strap or harness I've ever used to my Money Maker. It's just on another level. It made me set my personal expectations higher. I realized that there wasn't anything physically holding me back that I could use as an excuse anymore. I am the sheriff of Dodge City; I shoot first and ask no questions. I made it my personal mantra that I would not come back until I had the shot. Ever."
There's no question in Pogue's mind that the Google Search that landed in him HoldFast's lap was exactly what he needed when he needed it.
"It seemed like more than just a strap; it was like setting an intention to be successful. I am the money maker now."
Contact Info:
Email: ronpoguephotography@gmail.com