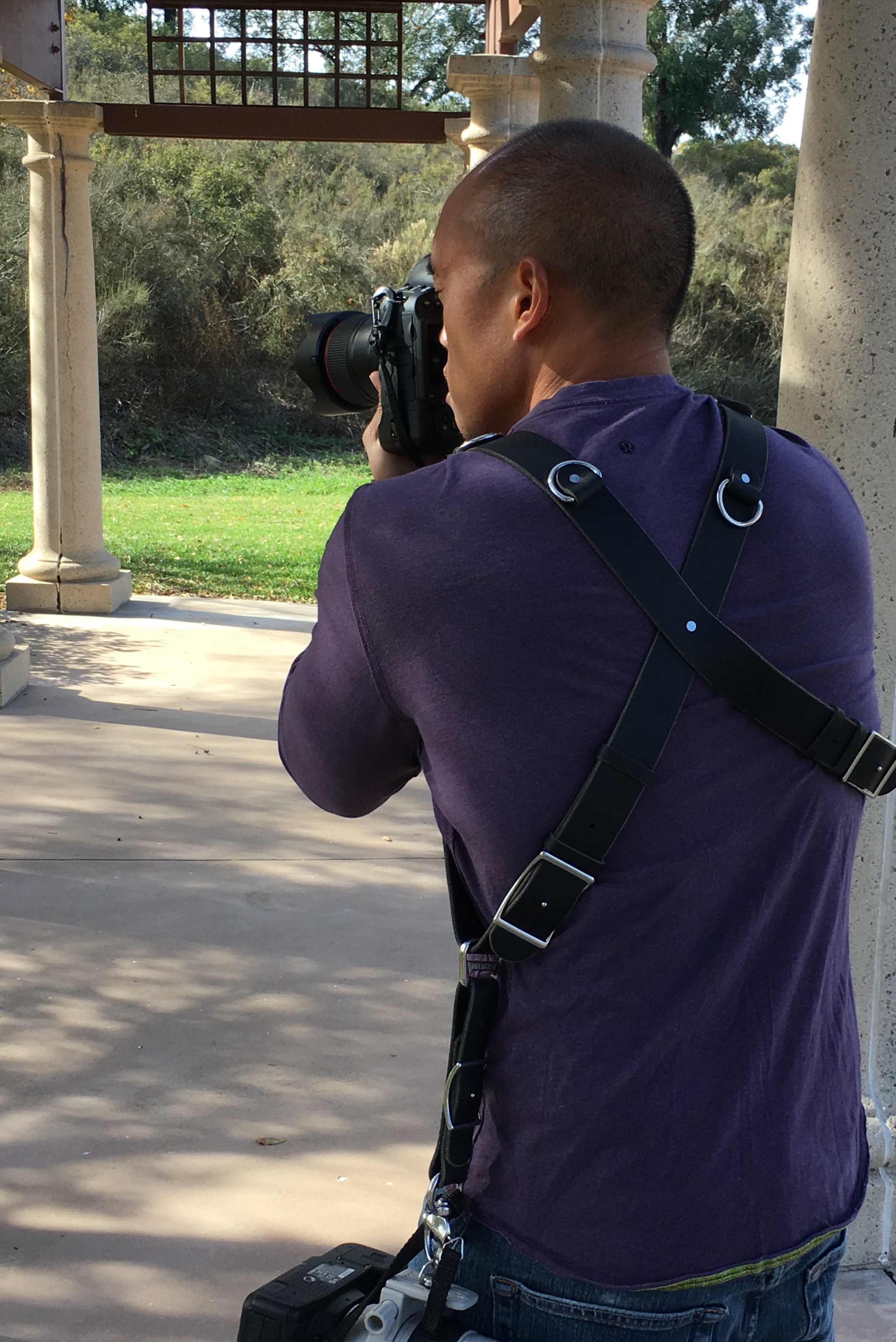 From the get-go, HoldFast's allegiance lies in this: steadfast dedication to professional photographers and the systems they utilize. Committed to paving the way, HoldFast gear accentuates style while also performing comfortably and efficiently. Responsible for creating a new genre within the industry, we're changing the way photographers look and feel while doing their best work.In this series, you'll hear stories of HoldFast gear and the photographers–the pioneers,the adventurers, the originals–that use them. This is How You HoldFast.
As an almost 10 year veteran of this industry, photographer Anthony Eusebio had come to the point where he needed a change. Having hauled loads of camera gear around for ages, the weight of his work–literally–was beginning to take a toll.
"I got back pain a lot lugging camera bags and shoulder straps on my cameras. Carrying a shoulder bag while shooting felt very unbalanced. I would constantly have lower back pain after shooting, and my shoulders would also be tense as well from my straps hanging off my shoulders," Eusebio explains.
Eusebio shoots everything from portraits to sports to wildlife. He was used to carrying his cameras using a single strap for each, carrying a strap on each shoulder or straps on opposite shoulders so they went across his body.
"Doing this always felt like the camera I wasn't shooting with would get in the way or the straps felt tangled. Moving around with my cameras set up like that also felt uncomfortable because my cameras would bang into each other as they hung off of me; if I had to reach for something, they would hang down and be in the way."
Eusebio also tried a multiple of shoulder bags, but without much success. "I would have a camera on my shoulder, and camera bag with my second camera on my other shoulder. Pulling out my second camera while leaving my other camera on my shoulder was very annoying."
After hearing about HoldFast from gear reviews and on social media, Eusebio invested in his first piece of HoldFast gear: a Water Buffalo Money Maker in black. The investment paid off immediately–and in spades.
"I did a shoot with my Money Maker for four hours with no pain at all–ZERO."
Because the Money Maker is designed to settle your gear higher up on your body, cameras hang on either side of your waist, naturally behind your midline. This takes insane pressure off your back and redistributes it evenly across the strongest part of your back.
"The most helpful part of my Money Maker is the weight distribution and balance of the straps. It's easy to  access and grab my cameras hanging on my sides. With the Money Maker, I have both cameras ready to go hanging by my side," Eusebio says. "They're always ready to shoot. I can move around and my cameras will be out of the way. The Money Maker is extremely comfortable."  
"The camera I'm not shooting with stays out of the way. If I need to do a quick switch because of the situation, I can drop the camera right to my side and quickly grab my other camera. That is the game changer!I am always ready because the Money Maker gives me the fast access to whichever camera setup best suits the situation. Having both cameras easily accessible allows me to focus on my subject and being able to quickly grab the camera with the lens I want. I don't have to worry about straps getting tangled or straps sliding off my shoulder. With my Money Maker, I feel more balanced and relaxed and way more mobile."
After just his first use of the Money Maker, and with considerable hours spent on the job, Eusebio didn't hesitate at all in knowing he made the right choice"There wasn't any reaching for my camera in my shoulder bag or trying to figure straps, no having to catch a camera when the strapped slipped off my shoulder. I could focus on the frame or predicting the shot rather than the "logistics" of lugging around my gear.  I didn't have to worry about missing the shot because I was too busy digging through my bag. The Money Maker gave me accessibility and mobility."
The comparison between HoldFast gear and gear he's used in the past is simple for Eusebio: there is none. "HoldFast exceeds any other product I've used–from the innovation of the Money Maker, to the workmanship, to the quality."
Email: aeusebio73@gmail.com
Phone #: 858-877-3773