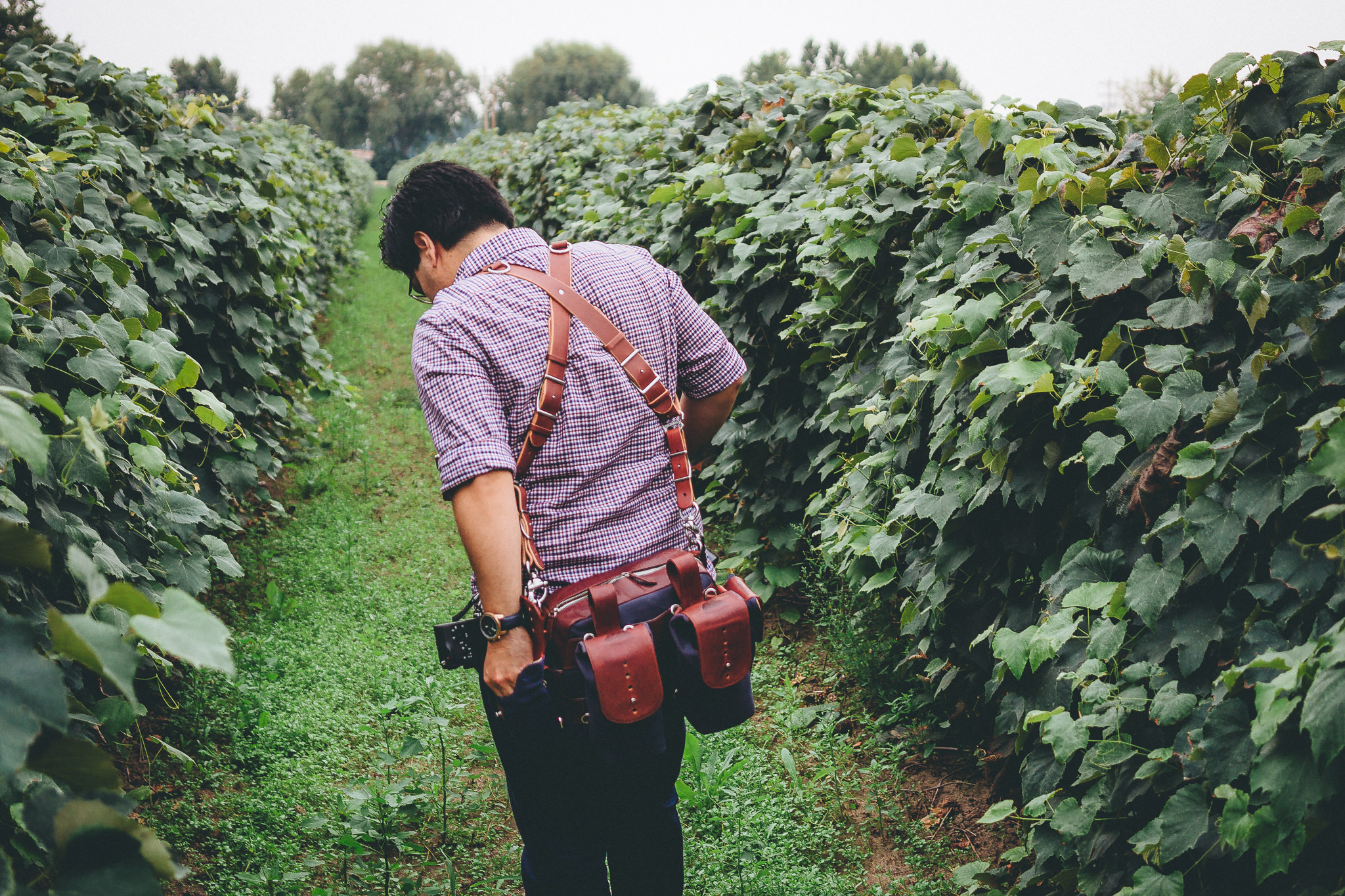 From the get-go, HoldFast's allegiance lies in this: steadfast dedication to professional
photographers and the systems they utilize. Committed to paving the way, HoldFast gear accentuates style while also performing comfortably and efficiently. Responsible for creating a new genre within the industry, we're changing the way photographers look and feel while doing their best work.
In this series, you'll hear stories of HoldFast gear and the photographers–the pioneers,
the adventurers, the originals–that use them. This is How You HoldFast.
Manny Avila toggled back and forth between several different cameras set ups for quite a while searching for the perfect fit. You could say he's a bit of a maximalist, and variety is his specialty. "Being a versatile photographer, I tend to work with a variety of different setups from one camera to a drone, to up to three cameras and seven lenses," Avila says.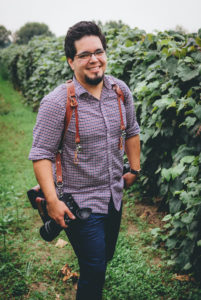 Avila has been shooting for three years, but honed in on weddings about a year into his career. Aiming to capture all of the right moments at the right time means, more than anything, that Avila has to be in the right place at the right time, which often meant sacrificing the tools he needed because he physically couldn't carry them with him.
"I ended up using a name brand double camera harness that put both cameras on ONE shoulder. While it was nice being able to use two cameras, the discomfort was not worth it, and it additionally wasn't very good looking. My search continued." Avila returned to a thin black sling strap, and added a huge–and what he says was heavy–black bag on the opposite shoulder, with a second camera attached to the strap. "While I had everything I needed on me, my shoulder and back were taking a hit. I was beat after every wedding, and my shoulder was not liking me one bit."
In a story not unlike a large portion of HoldFast users, Avila discovered the Money Maker by seeing it on someone else, in what he claims, perhaps, was fate.
"I was at a local High School graduation ceremony, and something caught my eye. One of the event photographers had the coolest camera strap on; I'd never seen a double camera strap like that before that was not only nice looking–even from 30+ yards away–but also just looked comfortable and super functional. I was sold."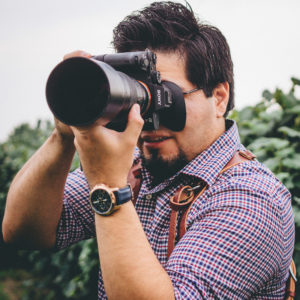 Thanks to the power of social media, Avila met the event photographer through a mutual friend on Facebook, and immediately inquired about the strap. "I knew then what I had to do. The moment I first tried the strap on, I knew I wasn't going to look back," Avila says.
With a focus on weddings, Avila has to easily be able to adapt in order to stay present in the moment, and capture the genuine emotion of the moment for his clients to look back on.
"I need a good set–up to 6 for weddings–of primes on me to accomplish my vision. There's no other products besides HoldFast that will allow me to comfortably carry all that I need without sacrificing something. I love that I can carry just what I need and it all being very accessible."
The Sightseer collection has been Avila's favorite, and rightfully so. Designed to allow photographers to carry the essentials on the journey capturing sights, each of the collections six different bags easily attaches to Avila's Chestnut Bridle Leather Money Maker.
"The modularSightseer systemhas been the best and most helpful. Whether I'm shooting a wedding, a portrait session, real-estate, or a product shoot, theSightseer systemis able to accommodate every gear setup I throw at it. The modularity of the system has been amazing. Form AND function working in unity. I love that HoldFastproducts can keep up with my versatility. I can use myMoney Makerwithup to three cameras, with sightseer pouches–twomediums and alarge–and withthe Sightseer Lens Bagto the side or attached to the back."
The Sightseer line of bags, straps, and pouches are designed to help keep your camera and accessories within reach. Stashing your gear in a backpack, where you have to remove the bag, then pull out the gear you need, then put the bag back on to even make a shot could mean you've just missed a sighting. Avila is thankful for this above all.
"What I love most about HoldFast products (other than them looking amazing) is how functional and versatile their products are. No more having to have separate lens bags and having to run around myself or having an assistant run around grabbing what I need. I have what I need, when I need it. This is CRUCIAL for my wedding and event photography," Avila explains.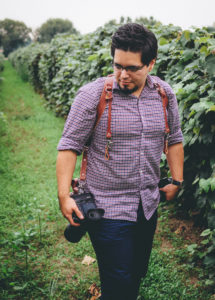 Avila claims that using HoldFast gear puts photographers in an advantageous position, one that emphasizes the adaptability it provides. In Avila's book, nothing compares to how game-changing his HoldFast set up has been for him–Money Maker, Sightseers and all–, and after using a single sling strap in the beginning of his photography career, he knew the transition to a multi-camera setup had to come sooner than later.
"As the gear I need increases, the weight increases. I do not want it all on one shoulder. This is whenthe Money Makercomes in. For the first time, I'm able to carry all the gear I need without it slowing me down. After using the Money Maker for the first time I realized that I was saving my back and shoulders from HUGE problems I would have developed if I had kept using my previous setup. I now felt no pain and could shoot a long wedding day with ease," Avila says. "The Money Maker has been saving my health and career.For this reason, I've been fast to promoteHoldFast to other photogs, and will easily rave about their amazing product line as I want them to have the same great experiences I've had."
Like everything else HoldFast gear is about the Leather Safety Lanyardis simple, touch, incredibly useful, and an essential part of Avila's work setup. (Remember that thing about being a maximalist?) "The leather lanyards have been amazing. I keep them attached to the front D-rings, and for sessions and events, I can quickly attach a third camera or, my favorite thing to do, to attach my DJI drone remote to my strap. Having just introducedaerial photography services, it's so great that I'm able to seamlessly incorporate that into my setup. The fit is perfect. No need to fiddle around with a standalone, not to mention cheap, nylon, black strap anymore. Drone-only assignments have never been better. Just adda couple pouchesor theSightseer bagto theMoney Maker, and you have all the batteries and accessories you need for some comfortable drone piloting."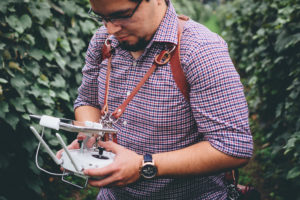 Since the moment Avila strapped on his Money Maker, discoveringnew ways to use HoldFast productshas been a top priority for Avila. "My first wedding with it was amazing. Afterwards, I sat in the car confused as to how I felt I could shoot another wedding right after. I was confused how I didn't feel extreme discomfort and shoulder pain. I could now be comfortable during a wedding AND have everything I need."
And HoldFast gear is doing just that: adapting to what Avila needs, and doing it in style.
"I've been raving about HoldFast since the day I first tried on my Money Maker—I knew then how it would change everything. My old "on the job" setup makes me cringe nowadays even! The wonderful comments I've gotten from people serve as a constant reminder of howHoldFast has been a game changer for me. HoldFast products just look so nice. It's not just me that notices: clients, weddings guests, complete strangers, you name it! They notice I'm not wearing the usual clunky black shoulder strap or chunky belt system. They see that I value detail. They know I'm serious about what I do–they trust I mean business."
CONTACT
https://mannyavila.photography
www.facebook.com/mannyavila.photography
www.instagram.com/mannyavila.photography
www.instagram.com/mannyavila.photography.vs
contact@mannyavila.photography